Duniter4j > a java Command line tool
Introducing Duniter4j-client v0.10.1 : a cross-plateform command line tool for Duniter.
Installation
Download the file duniter4j-client-<version>-full-<platform>.zip from the lastest releases page

Unzip the archive;

The open a terminal and execute the script duniter4j.sh

cd duniter4j-client-<version>
./duniter4j.sh --help

on Windows : use the duniter4j.bat script file.
Usage
Sending transaction
To send money to a pubkey, execute this command :
./duniter4j.sh transaction --auth-scrypt --amount 10 --output 2ny7YAdmzReQxAayyJZsyVYwYhVyax2thKcGknmQy5nQ 
Veuillez entrer votre identifiant secret Scrypt (Salt): *****
Veuillez entrer votre mot de passe Scrypt (password) : *****
Veuillez entrer les paramètres de Scrypt (N,r,p): [4096,16,1]
INFO - Noeud Duniter (par défaut) : [g1.duniter.org:10901]
Envoi de la transation:
        - De:   G2CBgZBP
        - A:     2ny7YAdm
        - Montant: 10 G1
Transaction envoyé avec succès.

to broadcast the transfer order to each BlockChain fork, just add the option --broadcast.
Network peers
To show network peers, simply execute :
./duniter4j.sh network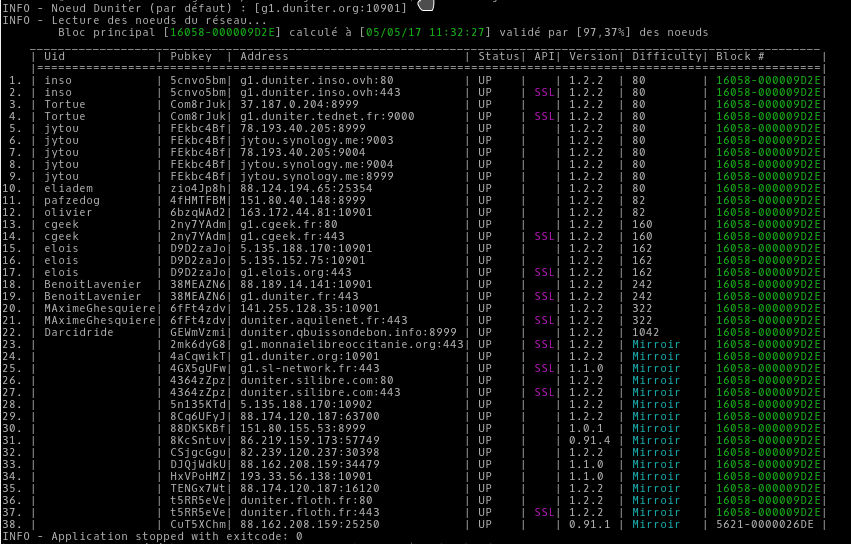 Add --continue to auto-refresh the peers list.
Need help ?
To get the help, execute this simple command :
  ./duniter4j.sh --help