We've worked on it at the last hackathon and few days after at home with @poka.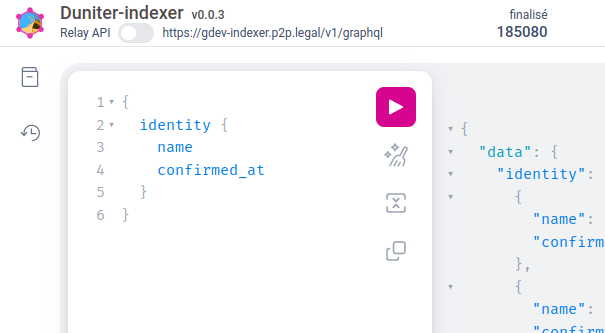 List on what's have done :
Docker
build docker image of the indexer itself and another one for Hasura with migration
configuring the CI to auto publish docker images
refactoring docker-compose with prod, dev and test mode

prod : launch all pre-configured services
dev : launch all needed services, but not the indexer
test : launch duniter-rpc with sealing mode
Hasura
bump Hasura version
refactoring database :

with name as the primary key of identity table
renaming block index
renaming id to pubkey
Fastify
fill database directly with real sql queries and not through graphQL : more than x2 faster!
refactoring the process block mechanism with an event emitter
remove fastify-hasura and vite-node dependencies, which simplify docker workflow
started writing test with Vitest and fake data with Polkadot
indexing the true Ğ1 genesis and all transactions !
Frontend
designed awesome logo
refactored frontend and integrate anu-vue UI lib
update graphiQL to the latest
toggle mode relay graphQL API
display latest finalized block
You can take a look online here :
https://gdev-indexer-graphiql.p2p.legal