Hello,
I want to use the uCoin Python API, so I tried this: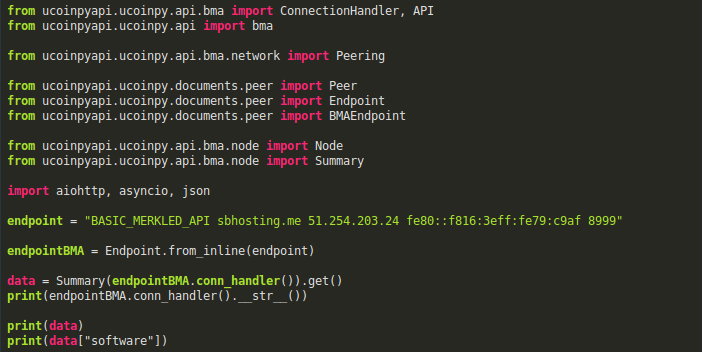 ---
But in the print(data), I get that:
< generator object get at 0x7f86483b24c8>
or that:
< ucoinpyapi.ucoinpy.api.bma.node.Summary object at 0x7f52685cfa90>
The print(endpointBMA.conn_handler().str()) , gets the correct endpoint , the initial one.
https://sbhosting.me/zerobin/?10f5b2038c6ffc13#X7CXUfwl6PgIkvVrhToU+FAJ0/MBzLudlGUNAoGamFI=
To the following URL , the node send the correct data.
http://sbhosting.me:8999/node/summary
I use the browser Midori because, Firefox redirects to https, the node can't handle HTTPS with my uCoin installation.