Monnaie GTest en approche
Hop, Duniter sort sa toute nouvelle mouture estampillée 0.80.0 !
Il n'y aura donc pas de version intermédiaire 0.70.0 : c'est en effet un choix pour montrer que nous nous rapprochons de la version 1.0. Il ne reste donc qu'une version majeure 0.90.0 qui paraîtra dans une semaine ou deux, et permettra d'accueillir la dernière phase de test avec la monnaie GTest.
Mais pour le moment, restons sur la 0.80.0 et TestNet


Cette version 0.80.0 est rétro-compatible avec la 0.60.0 : ces deux versions peuvent se côtoyer sans gêne sur le réseau, le protocole n'ayant pas changé dans le fond.
Mais cette 0.80.0 marque l'arrivée d'un nouveau cœur pour Duniter, revu de fond en comble, afin de laisser le moins de place possible aux bugs et permettant une meilleure maintenance. Le protocole a été grandement réécrit à cette occasion. Si vous subissiez régulièrement des désynchronisations ou échecs à resynchroniser votre nœud, alors cette version pourrait changer la donne !
Mais cette version apporte aussi d'autres nouveautés :
Cesium en dernière version 0.5.2
ajout d'une API de modules (anciennement « nœud spécialisé ») permettant d'étendre le cœur
compilation entièrement compatible avec yarn
meilleur accrochage réseau au lancement de l'application (évite de forker seul dans son coin)
Elle corrige également quelques bugs comme :
la synchronisation qui échoue
le calcul d'une preuve de travail déjà dépassée
un mauvais rafraîchissement du bloc courant dans l'application de bureau
Mais le plus gros changement est clairement le nouveau moteur : son développement a nécessité plus de 80% du temps parmi les nouveautés et bugs corrigés.
Cette version est donc potentiellement instable, le nouveau moteur n'ayant pas été beaucoup testé sur le réseau. N'hésitez donc pas à attendre les premiers retours avant de vous lancez avec cette version !
Cette version nécessite une réinitialisation !
Même si la 0.80.0 est rétro-compatible sur le réseau, elle n'est pas rétro-compatible avec une installation précédente sur votre poste : il faudra donc réinitialiser votre nœud :
Avec Duniter Desktop
Rendez-vous dans Settings > Data puis cliquez sur « Full reset of the node » :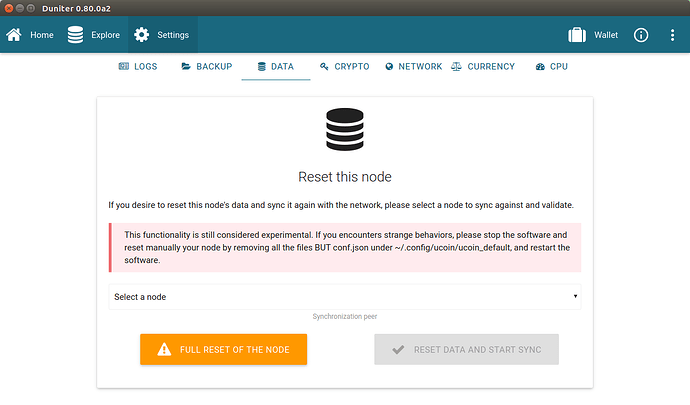 Enfin, resynchronisez votre nœud.
Avec Duniter Server
Lancez les commandes :
duniter stop
duniter reset data
duniter sync duniter.org 8999
duniter restart

Note : si vous utilisez la web UI habituellement, remplacez restart par webrestart dans la commande ci-dessus. Sinon, l'UI ne sera pas lancée et non disponible.
Mettre à jour sa version
A noter que le logiciel a pris un peu d'embonpoint, environ +20 Mo pour la version de bureau Linux, et +8 Mo pour la version Windows. Cela n'étant pas un problème critique, la diète sera pour plus tard